About Us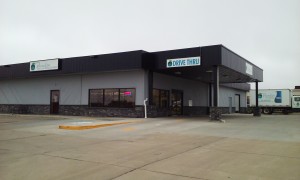 Paradise Dry Cleaning and Laundry opened in November of 2014 to provide a long needed service for the growing city of Dickinson. A complete remodel of the former Sears Building behind the Prairie Hills Mall provided a convenient and efficient location for Paradise to serve all of Dickinson's residents.
Filled with state-of-the-art Cleaning and Alteration equipment and utilizing Planet Friendly cleaning methods, Paradise Dry Cleaning and Laundry is ready to serve Dickinson. Our managers bring over 60 years of Dry Cleaning expertise to the Dickinson market and can provide you with the best Cleaning service in North Dakota!
Steven K. Mesches, General Manager
Born and raised in Buffalo, New York, Steven graduated from Daemen College in 1984 and joined the Dry Cleaning industry immediately. Steven grew up in the Dry Cleaning business having worked at cleaners while in high school and college. His father started a dry cleaning business in the early 1950's and developed a chain of 22 stores over a 40 year span. Steven took over the family business and ran the chain until selling his interests in early 2000.
But, hooked on the cleaning business, Steven joined Wesselmann Cleaners and worked for that organization until coming to Dickinson to help establish the new, State-of-the-Art, Paradise Dry Cleaning and Laundry. Steven has been trained over several decades to produce a quality product in a quick, efficient manner and to serve an ever demanding consumer market. He looks forward to providing Dickinson with the type of Dry Cleaning and Laundry service that consumers would expect to find at the most popular cleaners in a large metropolitan area.